How to Delete PDF Text on Mac OS
Download PDF Editor Mac to delete PDF text easily.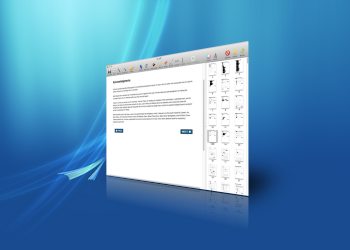 Adobe Systems designed PDF documents for a convenient sharing of information without disturbing the original layout of the shared documents. Editing options are switched off in the PDF files by password protection. Password protection helps law firms and publishing houses in protecting their copyrighted content, but on the other hand, it creates problems for other users.


Editing Problems in PDF Documents
Fixed formatting of PDF documents is a nice feature, but at the same time, it makes it harder to remove the mistakes and errors. Problems with the editing of PDF files can be dealt with using a PDF editor. Mac and Windows users can find several editors on the internet. These editors would help you fix the following issues in your PDF documents.

1. Typing errors

2. Spacing mistakes

3. Font settings

4. Resizing of images

5. Addition of new text

6. Addition of new images

7. Addition of new text

8. Draw lines for annotation

9. Addition of watermark

10. Page Rotation in PDF files



Introduction of PDF Editor Mac Software
PDF Editor Mac is a high-quality editor made for the Mac operating system. Mac users can upload their PDFs in the PDF editor tool to delete and include new texts and objects in any PDF document. The best part is that the Mac users can preview and edit their PDF files without worrying about the disturbance in the format of the edited PDF document. Yes! Your edited document would retain the original formatting after editing.



How to Delete Text in PDF Files by Using PDF Editor Mac
PDF Editor Mac enables the users to delete the unwanted text from PDF documents permanently. Users can delete the text by following these steps.

1. Open your PDF document into the PDF Editor Mac. (PDF Editor Mac has a straightforward interface, and it is identical to Word editing softwares in usage.)

2. Choose the Eraser tool and delete the text by dragging the eraser tool over it. The text would be erased, and a blank patch would appear on the PDF document.

3. Users can insert new text in the blank patches or save the document by clicking on the Save button.

PDF Editor Mac does not disturb the unedited parts of the edited PDF document.




Best Features of PDF Editor Mac
Most Mac users are not a fan of PDF editors available at the internet. These editing apps are either difficult to use or do not provide value to the consumer. However, PDF Editor Mac is a simple yet high-quality editor that provides multiple editing options for PDF files in Mac OS.

1. Latest Technology and User Updates

PDF Editor App is made to be used with most versions of Mac operating systems. Users can download the PDF Editor Mac for their Mac PCs OS X 10.9 or later versions. The pro version of PDF Editor Mac receives regular software updates, which makes it an excellent investment for regular PDF users.

2. Secure Download

PDF Editor Mac works on providing premium quality services and value to its consumers. Mac users can get their copy of PDF Editor Mac from the official PDF Editor Site. The download of PDF Editor Mac is a simple procedure and doesn't require any side downloads. These side downloads often result in downloading of spammed softwares in PCs. Spyware and Malware can affect the data security of users.

3. Simple Graphical User Interface

Most Mac users are afraid of editing their PDF documents due to the complicated editing process. But PDF Editor Mac has a convenient user interface and editing tools. Users can add, delete, and modify the images and textual part in their PDF documents. The edited PDF document can be saved in the selected location of the Mac PC.

4. Multiple Editing Options

PDF Editor is a fantastic editor that facilitates Mac users by giving them advanced editing options. Users can alter and add the text and images in the uploaded PDF files. PDF Editor Mac provides several options for harmonizing the edited areas of the PDFs with original documents. However, the remaining unedited sections of the document retain their original formatting.